Walking Women Stay Younger Longer
Even After 60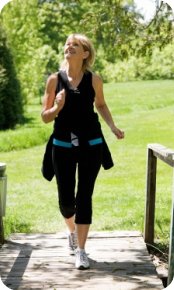 6 Good Reasons
to Take a Walk!
Walking women know the benefits. Apart from being easy, you can begin at any level and walk any time! You will appreciate the benefits of walking on the first day and grow to love it for a million reasons!
Doesn't matter if you're approaching 60 or nearer to 70 walking will improve your posture, trim inches off all the right places and make you feel good. The very best anti aging tip I know!
Walking Boosts Bone Density.

As the bones gain mass and get stronger, tissue growth is stimulated.
Walking is classed as a weight bearing exercise known to help prevent osteoporosis and it's never too late to start.

Reduces the Risk of Heart Attacks

Walking women know that a couple of hours walking per week drastically reduces the risk of heart attacks and coronary problems. The most natural way to stay heart healthy.

Better Mood and More Self Esteem

Walking increases the production of the bodies natural feel good chemicals. Stress is just swept away leaving you in a better mood and with more self esteem. Most walking women find they sleep much better too. How good is that?

Burns Fat

Walking burns fat if you step up the pace just a little and bring your arms into play. As you get fitter you'll find burning calories on a regular basis is child's play and much easier on the joints than jogging.

Tones Muscles

Muscle tone improves quickly when you walk 2 or 3 times per week. You can lose inches off your legs, arms and butt and improve posture at the same time.

Stimulates Immune System

Outdoor activity increases your oxygen supply and stimulates the immune sytem. What better way to help prevent everyday illnesses and age related diseases.
Getting started is easy
Just for the first few times put a pair of good trainers along with your walking clothes somewhere together so you don't have to go looking for things. Choose a route that is quiet and green if possible and just go. Keep your goals low in the beginning and enjoy tagging on more minutes as you get fitter.
Boost Motivation
Walking women find it easy to reach the daily reccommended 10.000 steps. If you need some inspiration get a pedometer to measure your steps, how many miles you walk and some even tell you how many calories you used. Choose a simple type with no fussy extras, clip it onto your waistband and you're off. Knowing how many paces you have walked at all times is great motivation to walk a few steps more.
If you move better to music, get an ipod. Load it with your favorite songs and get yourself going…
Treat Yourself, You Deserve it!
We all feel better when we look good, so as soon as you know you like walking, treat yourself to some fab walking clothes. Go try some great new trainers like these Reebok Women's Walking Shoe
Good trainers are a must to protect your feet and correct your posture but new ones are also another great motivation trick!
There are dry wick T shirts to layer with jackets when it's cool and pants in capri or long lean bootlegs.. Make sure you look the part!
Walking Women take 10 years off their fitness age…
What about you? Why not begin today!
None of this for you? What about rebounding, fitness ball exercises or
swimming for fitness. I have written pages on the amazing benefits of mini trampoline exercise . This is my favourite because besides all the positive health effects it's quick to do, burns calories fast and it's fun! Great for walking women on those really wet days!
Standing Abdominal Exercises for Women Who Hate Crunches
Arm Exercises for Women Who Don't have Time!
Best Leg Exercises Do-able & Effective
Easy Abdominal Exercises: Flab to Flat!
Arm Toning Exercises: Sleek & Sculpt Older Arms.
Getting in Shape Again!
Walking Exercise for Fitness
Fat Burning Exercise
Find All Page Titles for Mature Women on the Site Map
Return from Walking Women Homepage