Anti Aging in Action Newsletter
What's it about?
My Anti Aging In Action free monthly newsletter brings you the latest scoop on all things Anti Aging! Fresh perspectives for women of 60 on fitness, weight control, skin care, make up and above all a positive attitude to staying young!

This website interprets the world of beauty, health and fitness for modern women approaching 60 and over.
For us the goal is to be fit, healthy and the most attractive version of ourselves possible.
Want to know what works and what doesn't?
How to use every trick in the book to look great and feel fabulous?
Stay up to date with our Back To Fitness Challenge!
Subscribe at the bottom of this page claim your free ebook
Getting Back in Shape After 60! and stay up to date with us!
Could you be doing more?
The latest beauty news, affordable products and treatments that really work for
very mature skin.
High-tech make-up innovations like Make Up Primer and how to get the best results on older skin.
Eat yourself young, superfoods and juices to postpone those age related ailments so you can enjoy life!
We have it all covered… Just for Us!
| | | |
| --- | --- | --- |
| | | |
| Inspiration to improve fitness and work on posture and problem zones. Effective exercises, simple and safe! | Healthy, sustainable weightloss methods with solid information and Tips & Tricks to see you through to a slimmer you! | Still learning how to choose wellness? Find out how to deal with stress, conquer moods and enjoy life! |
and lots, lots more…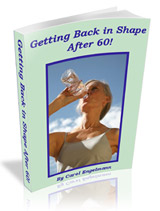 Unhappy with your fitness level?
Feeling tired and sluggish?

Claim your free Ebook
Getting Back in shape after 60!
and get the facts you need
to make important decisions +
great ideas to put them into action!
Subscribe Now!
My Anti Aging Blog
The Eat Smart Move More Formula
Shopping for Shapewear!
The Fitness Walking Program
Anti Aging Creme On A budget!
View All My Pages for Mature Women on the Site Map
Return from Anti Aging in Action Newsletter to Homepage