My March Update
Life is what happens
when you're planning something else!
My March update is a bit long but reminds us how quickly we can take on too much..
It's said that moving house is one of the most stressful events in our lives. We may not agree entirely with that but at 63 I can tell you it is a challenge.
They say too that things change constantly and staying young is about keeping up! So here we are..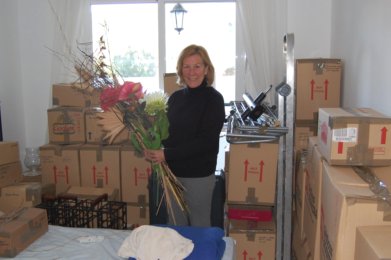 We had been trying to sell our house for about two years. We missed our friends and family in southern Spain and desperately wanted to return there to spend this phase of our lives in the warm sunshine of Andalucia. So when a young couple showed interest in our house (at a very reduced price.. but that's another story) we were very excited. A few weeks later they confirmed their offer to buy on the condition that we could move out within one week. Yikes! We are just two adults but packing all our belongings so quickly would test not only our organizational skills but our patience and endurance too.
We did it and one week later we were in our car driving back toward Andalucia. My sister had hastily and happily arranged rented accommodation for us close to where she lives with her husband and Purdy the Dobermann softy!
How good can it get? A hearty re-union with all and sundry and a daily Bienvenido from the warm Malaga sunshine! During the first days our attention was brought to a property on a beautiful golf course (John's idea of heaven!) and to cut a long story short it will be ours sometime in the next weeks!
What happened next, no one expected.
I just hit the wall.. 4 weeks and about 60 boxes, one property sale, 1.000 kilometers, and a new property purchased! I could not sleep, my brain was constantly in overdrive. My writing totally neglected and I looked and felt dreadful.
Time for a dose of my own medicine! Slow down and take it easy! Some time off was on the cards but anyone who's ever been there knows that is not easy. We began to float around our old haunts and generally enjoy our good fortune being back where we belong.
My process is ongoing but during the past weeks I have been reminded of a few things I had forgotten.
How easily we slide into taking on too much.
How quickly life can change and make demands on us that are potentially unhealthy.
To pay attention earlier when loved ones repeatedly tell you you're over doing it.
I know too that what I have just experienced can be the start of a downward spiral at our age. Piling on weight, putting off exercise and neglecting all the girly things that keep us looking good too.
So What did I do?
A few days with no agenda had the most profound effect on my mood and my well-being. A trip to my long lost hairdresser for a great haircut and an update on what's been happening was the next thing. Whilst there I grabbed a Spring offer on 3 Guinot Hydrodermy facials at a reduced price. I've had the first two and besides being wonderfully relaxing they are working wonders on my sleep deprived skin already.
Walking is a blessing when trying to recharge your batteries. I take it easy and focus on the countryside and my thoughts rather than what my pedometer is telling me. I found an old book whilst packing about Walks in Andalucia and hopefully we'll be able to tackle one of those soon.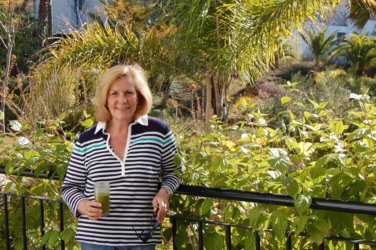 We rescued our juicer from storage and kick off in the morning with a healthy juice again. Here on the terrace of our temporary home with my favorite veggie juice.. Here's to our good health!
I have also discovered a kettle bell instructor and will begin a course as soon as my body gives me the go ahead! Kettle Bell exercise may be new for some of you so I'll try to get a lesson on video to give you an idea. I like it because it's a weight bearing exercise with more movement. Anyone who finds lifting free weights boring after a week will like kettle bell swings!
It's brilliant for strengthening the core muscles and if done properly great for any age group!
In the next weeks I will be..
Investigating the promise of some salon facials and their home-spun alternatives for those on a budget.
Working with you again on the Fitness Challenge on Facebook.
Bringing you some low GI breakfasts to get you of to a good start in the morning.
Thank you for the concerned e-mails. It's always nice to know that someone is thinking of you. I hope that my experience can help you deal with or even prevent that grey moment when the gloss comes off.. and we are forced to slow down and take stock. The most important thing is that we feel good and stay healthy.
I'm glad we can get there together!
Carol
Join my My Anti Aging Blog and you'll get a short note from me when ever I write a new page for this website.
How Do You Say No?
Back to Fitness Challenge!
One Minute Meditation
View All My Pages for Mature Women on the Site Map
Return from My March Update to Anti Aging Homepage