How not to Look old at 60!
How not to look old at 60 is about recognising habits
and dumping them for a sensational new look.
When does a signature style
become a habit and scream OLD?
These are easy changes that you can make today to increase your confidence and help you look ten years younger.
Hair.. and how not to look old!
Hair is a very feminine thing, it's beautiful and it should move when you do. Choose a style that enhances your slightly older, face shape. Your stylist knows how to adapt a style, making it chunkier, shorter, curlier whatever it takes to be just right for you.
Don't be afraid to experiment with more casual styles. You might miss a chance to find your perfect, 10 years younger hair style. Colours that flatter are rich and soft, threaded with softlights in shades that make 'nice' absolutely stunning. A shade lighter is the best strategy to minimise the look of tiny wrinkles and imperfections. Above all make it shine! Use lots of conditioning treatments and watch how your stylist drys your hair to get the glossiest results. One last tip, fragrant hair turns heads!
What has to go!
Fixed and sprayed hair. Leave the very long hair to Cher she has the body and everything else to go with it. Straightened hair is very unkind to less than perfect faces especially late in the evening when you are tired. Colours that are too dark because they accentuate every tiny line and make shadows under the eyes. Untrimmed hair that is feathery on the ends and never looks sleak and shiny.
Your skin… and how not to look old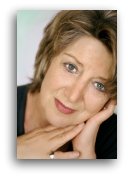 Good daily skin care is essential if you want to look younger. Start with a beautifully moisturized skin and apply an anti aging fluid make up in a colour that matches your skin perfectly. These formulas cover imperfections, minimise lines and still look light and natural.
If facial redness is a problem treat with a
calming cream designed for this purpose. This will gradually reduce redness and also conceal the flushing and shine under make up.

Even Better Makeup SPF15
If necessary use concealer or stick foundation to lightly cover tiny veins. Warm a little skin balm or cream in your hands and pat gently onto the skin after make up. This gives that glowy look we missed for so long. Go easy on powder, the new foundations don't need them. Blusher in a gentle colour like a veil over the apples of your cheeks is fresh and flirty. Less and lighter is younger and more attractive! Attractive older women know that clever skin care and make up is how not to look old!
What has to go!
One colour make up all over the face and too dark. Heavy foundations that settle in lines and show up enlarged pores. Bronzy, tanned make up accentuates every wrinkle and doesn't match the hands. No blusher, or too much blusher. Powder that makes the skin look matt and dull.
Eyes score lots of points when you know how not to look old!
Elizabeth Arden Eyeshadow Quad – Neutral Cashmeres
Use under eye concealer even if you don't have shadows. It wakes up the eyes magically! The new eye shadows are fine milled, softer textures to work better on less than perfect eyelids. Use the softest combination of colours, bone or ivory across the lid and soft sand, coffee or khaki closer to the lash line.
Experiment with the right tools and products to maximise the effect. Eyelash curlers have never been more necessary to lift up those straight eyelashes, doesn't matter how sparse they are. Use eyedrops to whiten and make your eyes sparkle and rich darkest brown mascara to frame them. Save the black for your very best days and parties!
What has to go!
Dark shadows under eyes. Dark or glittery eye shadow that settles in skin folds and melts. Matching shadow to outfit or eye colour, oh.. so old! Eye liner top and bottom closes eyes like drawing a circle around them. It makes them look smaller. Straight eye lashes and black mascara in the sunshine. Yellowy or reddened eyes, they look tired and age us unmercifully.
Hands soft and well cared for… always look younger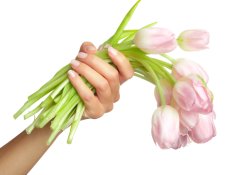 Hands are on show all the time and they can be a great asset. Use your body scrub on your hands in the shower to whisk away old skin cells and reveal softer brighter skin.
A simple hand cream used often, every day will have a better effect than a luxury hand cream used once before a special occasion.


OPI Nail, Touring America Collection, I Eat Mainely Lobster

Look into creams to lighten dark spots if they are a problem. Finger nails are natural and shorter these days. Beautifully manicured and filed into just a hint of squareness.
When choosing colours go for warm tones that don't contain too much blue as this can make hands look older.
What has to go!
Neglected hands, dry and rough. Discoloured nails and different lengths, ragged edges or nail colour that needs a
re-do. Very long or very fake finger nails. Even men can spot them a mile off today. Nail decorations like mini skirts are for young girls.
If you enjoyed thes "how not to look old" tips go ahead, make a few changes today but remember less is more. Experiment when you have nothing important planned and see for yourself how small changes can work youthful wonders.
This is not about the perfect make up it's about looking and feeling good. Do your make up and then forget about it.
Go have a great time and feel confident about the way you look. That's what really shows!
Don't settle for less!
Find lots more "how not to look old" tips in the pages on anti aging skin care facts.


Life at Sixty: 9 Reasons why we're Lovin It!
Arm Toning Exercises for Older Arms
The Very Best Mascara
Get in Shape Fast With Shapewear
Your Man Minus muffintop!
Make up Techniques for Mature Women
Find All Page Titles for Mature Women on the Site Map
Return from How not to look old to Anti Aging Homepage