Your Man Minus Muffintop!
Could this be a solution to that muffintop?

I hope all you girls are going to forgive me for this page but I just couldn't resist it.
I have been writing about shapewear for women and realised how similar mens body concerns are to our own.
We all know how the guys react when there's a wedding and we are excitedly talking about which shirt and tie he wants to wear.
He doesn't even want to wear the suit. Why? Because he feels uncomfortable. The muffin top, the moobs… he feels more comfortable wearing clothes that cover up! Do we know the feeling?

Slimmer and Fitter looks Younger
But let's be honest here, Which man wouldn't like to look younger, fitter and maybe a few pounds lighter?
We women know since years that extra pounds make extra years.
By focusing on the benefits of sports technology Companies like Equmen and Ript Fusion have come up with what looks like a classic men's undershirt that shapes stomach, chest, abs and arms. What's more is it supports the core muscles and can improve posture. It means cleaner lines and a slimmer silhouette, adieu muffintop!
Two of the best!
Take a look at the Firm Control Core Precision Undershirt
by Equmen at the top of the page. It's a firm control, seamless singlet made of breathable mesh. It's a good idea to buy a slightly larger size than normal so it isn't constrictive. This will not spoil the slimming effect. It is very much the same with women's shapewear, it doesn't have to be tight to work. It's quite an investment so make sure you get it right!

The Cotton Compression Crew Neck T-Shirt
by Spanx is made in a non clingy stretch cotton. It's a more moderate control but will still support the core muscles and eliminate that muffintop.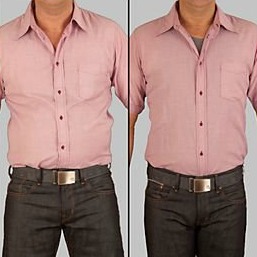 Smart Casual
This could make the difference between big Tee shirt, baggy jeans and smart Tee and fitted jeans.
The midsection is the most unforgiving part of the body and
man boobs add to the misery. An older, unfit, less attractive picture.
I reckon the guys could do with a little help here to get over the macho thing and just take advantage of a great possibility.
Look fitter, younger, pounds lighter…
Any other manly spin you can put on it?
Try it out, it might work.
What we wouldn't do for a happy, contented man :o)
Life at Sixty: 9 Reasons why we're Lovin It!
Thigh Slimmer, Leg Shaper, Confidence Booster!
Arm Toning Exercises for Older Arms
Find All Page Titles for Mature Women on the Site Map
Return from Your Man Minus Muffintop to Anti Aging Homepage