Advanced Make Up Foundation
Choose the right make up foundation and
achieve a Mini Face Lift effect!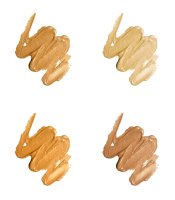 Advanced make up foundation formulas can even out skin tone and texture, minimize enlarged pores and wrinkles and bring back a satiny freshness to your skin. The result, a plumped up, dewy, almost flawless complexion!
This is a must read if
you are using the same old foundation, in spite of the changing needs of your skin.
Or, if you are just not happy lately with the way your skin looks when you apply your make up.
The secret lies in choosing the right kind of make up foundation for
your particular skin issues. The choice of colour and the application
techniques.
Anti Aging Liquid Foundation
The new lighter texture is easy to apply and the coverage is good for
skin with even tones and little redness. The advanced ingredients like
hyaluronic acid and peptides reduce the appearance of fine lines and
encourage skin renewal.
Coverage can be increased by applying a little more product to problem areas around the nose and mouth. To counter the dullness of mature skin, many products contain light reflecting particles to add luminosity to your complexion and nearly all have a sun protection factor SPF15 to protect.

Clinique Even Better Makeup

is a perfect example. The lightest of make up foundation textures, an SPF 15 and definitely in the affordable category. Lots of shades too!
Anti Aging Cream Foundation
This is the perfect choice for mature skin with dryness and uneven
tones. The rich texture eases flakiness and irritation and the active
ingredients like sodium hyaluronate lock in moisture, plumping the skin
and reducing the appearance of wrinkles.

The superior coverage of
Elizabeth Arden Intervene Foundation Makeup
means goodbye to red cheeks and chin and it stays put for hours. Meanwhile powerful antioxidants boost the skin's resources and vitamin C helps alleviate hyper-pigmention.
Anti
aging cream make up foundations contain ingredients that encourage skin
cell renewal leading to a more youthful glow. This one has light
reflecting particles and an SPF15 built in!
Whipped or Mousse Make Up Foundation
These anti aging foundations are unbeatable for mature skins with
uneven texture and enlarged pores. Their consistency works like magic filling in the uneven areas and tiny lines
in the most natural way. A little more skill is necessary to ensure the
application is blended down to a thin layer but the softness of the
finish is worth experimenting.
This is the best foundation make up for coverage of blemishes,
redness and coarseness of mature skin. For advanced rosacea or extreme
under eye darkness concealers in various tones are invaluable.
Choice of color is extremely important you can find tips on this at applying make up for coverage
Solid or Stick Make Up
This is another very useful addition to your make up for quick spot coverage
of redness, blemishes or scars.
CoverGirl Smoothers Aquasmooth Compact Foundation
is a gem.. it travels well and can be used in a flash to touch up your make up anywhere, anytime. Really inexpensive too!
Another option is natural mineral make up which can be worn sheer or layered for maximum coverage without ever looking heavy.
The lightweight powder is applied with a brush and a swirling technique. I have written about the pros and cons on my page Natural Mineral Make up Myth or Magic.
Application – How to get the best results!
Don't stop reading here… because application is key to the success
of these high tech anti aging make up foundations. They work in
combination with your daily skin care routine that prepares the canvas
for some stunning results.
After gently cleansing, apply anti aging moisturizer
all over your face avoiding eyes. Use a spot of enriched skin balm on
very dry areas. Apply eye cream or gel lightly and use a trace of
yellowy toned under eye concealer. Remember the inside eye area above
the nose. This banishes any darkness and brightens the whole face.
Remembering foundation does not have to cover the whole face, apply the make up foundation with your finger tips, spreading
lightly and tapping in. Don't massage or pull skin. Re-apply gently to
areas that require additional coverage. You can finish with a fine powder dusted
over cheeks, forehead and chin.
Your Skin is now ready for the fun bits…
Use these eye make up ideas to accentuate your eyes with soft milled matt shadows in shades that are kind to
less than perfect eyelids. Drawing the attention away from under eye
darkness. Learn how to make up brows and lashes using the right tools and colors. Read my reviews of the best mascara for your lashes, short, sparse, thin or straight!
Full lips have always been considered youthful and attractive. Don't
worry if you don't have the "Jolie" version any more there are lots of
ways to enhance thin lips .
Try outlining your lips with a soft pencil in a color no darker than your lips to improve the shape very subtly and finish with a creamy anti aging lipstick in a color that will add fullness and last forever.
You can be attractive at any age. Use the cutting edge make up foundation on today's market to your best advantage and enjoy the way you look.
Don't settle for anything less!
Make up Techniques for Mature Women
Perfect Make up Primer for Mature Skin
Make Up Ideas by Karinda Ristic
Make Up Tools for a Perfect Result
View All My Pages for Mature Women on the Site Map

Return from Make Up Foundation to Homepage