Applying Make Up for Coverage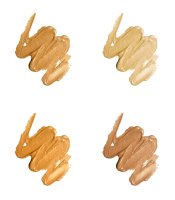 Applying make up to cover uneven skin tone or redness is part of the anti aging make up routine most of us have been doing for some time and we are pretty good at it.
If your technique is not working so well lately, then now is the time to look at some concealer tricks used by professional make up artists.
Open Up Your Eyes with these concealer techniques.
To prepare the eye area, apply a light eye gel or cream to hydrate the
skin. Applying make up concealer under the eyes and in the inner eye
socket above the nose is a good idea for all mature women. The effect is younger and wide awake!

Under eye concealers are available in various tones. If the darkness is not very noticable the yellow toned concealer will be sufficient alone.
Apply with a small make up brush being careful to take the concealer right up to the eyelash line. If your under eye darkness is extreme, experiment with peach and pink toned concealer together. For the best results the right make up tools, brushes etc are a must.
Depending on how severe the problem is, you may find it necessary to finish with a yellow based concealer. Use very lightly and experiment until it works perfectly.
Bobbi Brown Creamy Concealer Kit
In her book Living Beauty
Bobbi Brown explains how to use make up for rosacea and as an under eye concealer. It is beautifully illustrated with before and after pictures showing the magic of applying make up to overcome the problems that arise as our skin ages. This book is a perfect inexpensive gift for the older woman!
Many of us with under eye darkness also have dark eyelids. You can offset this by using a bone colored soft powder eye shadow lightly over the whole lid.
Apply light colored shadow and mascara only to the upper lid, taking attention away from the under eye area.
Using a foundation primer
on your eyelids could also help if your eyelids are crepey and the
shadow does not stay put. Primers also even color and
reduce darkness. This may seem like a lot of effort and more products
but when your friends ask if you've been on holiday, you will know it
was worth it.
You'll find more inspiration on Eye Make Up Ideas for older women.. enjoy!
Rosacea… How to calm and cover the unflattering redness.
Like my Mother and sisters I suffer from rosacea
myself. When I lived in Germany I loved to ski and now I live in sunny
Spain, all these climate extremes I now know are not good for rosacea
and I'm much more careful. Read about the facial redness treatments that I use myself and highly recommend for cooling and calming.
I have experimented a lot with make up for camouflage and have found
that yellow toned foundations are the best for concealing redness.
After moisturizing apply a fluid or medium weight make up foundation over the entire face. The colour should match your skin exactly. Then use a stick foundation
to spot cover the redness. Using your fingers to pat in, build up the
coverage slowly and finally dust with a bronzing powder, these tones are
best to counteract redness….and you won't need blusher.
More Tips.. eyes and lips
Another option for preparing uneven skin tones and
minimizing tiny lines and wrinkles before applying make up is make up
primer. This is a relatively new product but fast becoming an essential anti aging
item for mature women. You can achieve a gloriously smooth base, reduce shininess, minimize tiny lines and wrinkles and more. Here's some help… What is a make up primer and how does it work?
Choose cool eye shadow colors, avoid bright colours and
glitter and opt for soft flattering tones of beige, sable, khaki, and taupe and take a look at the best make up for a perfect pout and thin lips to fuller lips to help you complete the look.
Make up Advice for Mature Women
Natural Mineral Make Up, Myth or Magic?
Best Mascara for Luxurious lashes
Luxury Serums best anti aging product for very Mature Skin
View All My Pages for Mature Women on the Site Map

Return from Applying Make Up for Coverage to Homepage