Juicing basics
Quick Start to Healthy Juices!
Video Page!
Juicing Basics has everything you need to know to get started.
A crash course in healthy juicing.
Still need help choosing a juicer?
Setting up Your Juice Station
Giving your juicer a permanent place on the kitchen work top is a major step toward making healthy juicing a part of daily life.
Find a place where juicer and blender can stand together. Close to the sink is good.
Keep the chopping board, a sharp knife and the lining bags for the pulp container there too.
Print off this list of Juicing Basics and hang it on the wall behind your juicer.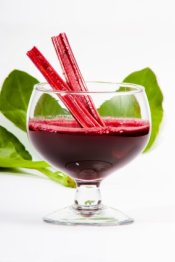 Any kind of Fruit or Vegetable
Get the full health benefits of juicing by experimenting with combinations of all of them.
Vegetables Spinach, broccoli, cabbage, cucumber, zucchini, carrot, pepper, celery, cauliflower, kale, fennel, tomato, beetroot and many more.
Fruits Apples, oranges, melon, pear, plums, berries, mango, peaches, nectarines, tangerines, papaya and many more.
Experiment With These Juicy Tips!
To sweeten vegetable juices use apples, pineapple or carrots.

To add a tang to sweet fruit juices try 1/4 of a lime or a piece of lemon.

Oranges, lemons and limes need to be peeled but leave the pith on (valuable nutrients)

Ginger adds a distinctly exotic taste. Use a very small piece to begin with. You can always add more next time.

Use herbs, parsley, mint, basil or anything that is left in the fridge. Even salad leaves you won't use tomorrow.
Turn Healthy Juice into a Delicious Smoothie
Place 1/2 an avocado in a blender with some ice cubes. Pour over the juice and blend for 30 seconds.

A banana works well too and kids love the creamy sweet taste.

Live yoghurt puts a natural creamy twist on any juice, veggie or fruit.

Experiment with nuts, seeds, dates, prunes, manuka honey and cinnamon.
3 Invaluable Tips before you go…
Always drink your healthy juice as fresh as possible. Nutrients have a short life span.
Look into the endless health benefits of adding supplements like Wheatgrass powder and
Spirulina powder to your juices. Especially good if you have been unwell and need to build up your health
Always clean your juicer before you drink your juice. It's psychologically faster, easier and done with! If you want to see just how fast juicing can be take a look at this video of the Juice Master, Jason Vale!
Build on your juicing basics and the rest you can make up as you go along or why not try some of my favorite healthy juicing recipes.
Or what about juicing diets?
Great Vegetable Juicing Recipe
Beetroot Juice Can Help Prevent Memory Loss
Juicing Recipes for Good Health
Anti Aging Foods, Eat Yourself Young
Which Juicer to Buy?
Healthy Juicing Hub!
Find All Page Titles for Mature Women on the Site Map
Return from Juicing Basics to Anti Aging Homepage