Make Up Advice for Mature Women
from Karinda Ristic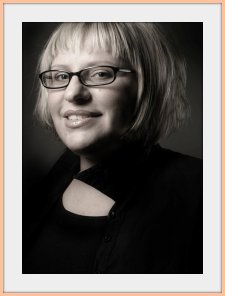 Giving make up advice is what Karinda Ristic likes to do most. Her Company, Make-Up Access is dedicated to educating women of all ages in the art of make up.
As a fashion and make up artist, she has worked for Elle,
Cosmopolitan, Vogue, Marie Claire, Glamour and Shape and her work has
been published all over the world.
Karinda has agreed to answer our questions and tell us how to use make up to overcome the problems we face every day with thinner lips, darkness under the eyes and all the other small changes that cause us frustration.
To stay young we need to be open for everything new!
Q A smoother complexion?
I have always taken care of my skin so I don't have any really bad
wrinkles yet and no dark spots. That's good because I will be 60 later
this year.
My problem is I have slightly enlarged pores around my nose and chin where my skin is oilier. Across my cheeks and under my eyes it is drier and more fragile.
I have read that using a primer before my foundation would help me get a better effect. What is a make up primer and how should I use it? I would like to make my skin look more smooth. Jackie, Malaga Spain
A I would also recommend that you use a foundation primer
before applying your foundation. Let me explain why. A primer is a
product you apply to your skin after moisturizer and before your
foundation. It prepares the skin for the make-up application and it often makes the foundation application look smoother
and more natural. Most primers are oil and fragrance-free and have a
gel formulation to allow for an even and precise application. Primers
work well for oily and combination skin, since they control excess shine and absorbs oil. But it also works for dry and sensitive skins as it nourishes and calms the skin.
Q Conceal Eyelash Gaps?
Recently I have noticed 2 small gaps in my eyelash line that show when I wear mascara. I like to wear darker eye shadows
close to my lashes but that seems to make the gaps even more
prominent. Fake lashes don't fit into my life style and I don't think
that I have the skill to do that anyway. Can you give me any make up
advice that might help please?
Sue, Essex UK
A Sue, I would
suggest that you frame your eyes with an eyeliner pencil. This will
make the lashes look fuller and thicker (perfect for those gaps). A
good-quality eyeliner pencil is soft and smudgy. Do not use a hard pencil that drags the delicate skin
around the eyes and results in an ageing effect. Apply the eyeliner
pencil as closely as possible to the top eyelashes. Then take a small eyeliner brush and smudge
your dark eyeshadow softly along the line of the eyeliner pencil. This
will make the pencil line appear softer and more blended.
On eye make up ideas you'll find my tips on the best pencils to use.
Find more make up advice and
answers to your questions on the next page. Lipstick problems, concealer and how to achieve a smoky eye look without overdoing it!
Karinda uses a 10 step method of applying make up that can be adapted to any age group and occasion. Her easy to follow ebook 10 Step Make Up Guide uses this process to teach women the skills of beautiful make-up. Her make up advice pays particular attention to helping us avoid the mistakes that can age us.
Karinda understands mature skin and assures me her work was not always on very young faces. Skilled techniques can light up a mature face
whilst minimising the problem areas.
Thank you Karinda for helping us to understand how we can use anti aging cosmetic products to keep us looking our best!
Younger lips, Simple ideas, Stunning Effects!
Best Mascara for Luxurious lashes
Make Up Ideas for Mature Women
Make Up Techniques for Mature Women
View All My Pages for Mature Women on the Site Map!
Return from Make up Advice for Mature Women to Homepage