Natural Mineral Make Up,
Myth or Magic for Mature Skin?

Video Page!
Lightweight, invisible coverage is the promise of natural mineral make up plus a youthful glow that lasts all day .
But does the magic work for very mature skin?
I can answer this question based on my own experience, lots of
research and lots of input from women of our age who read my pages.
The answer is..
Yes mineral make up products
like those from Bare Escentuals can provide coverage that is sheer and natural looking.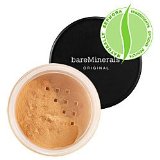 It is weightless and feels like no make up at all. The colors are
good for mature skin because they reduce the look of redness and
pigmentation. Minerals have a natural luminosity that softens the appearence of lines of wrinkles and it lasts all day.
The only downside is, you need a brush like the Bare Escentuals Full Coverage Kabuki Brush to apply this gossamer veil and an application technique (video below). Not a big price to pay!
What is Natural Mineral Make up?
Lets begin with the many advantages of natural ingredients for mature
skin. The main ingredient is crushed natural minerals with natural
inorganic colourings. No preservatives are necessary because bacteria
cannot survive in inorganic substances. The most important ingredients
are Zinc Oxide which is an anti inflammatory, Titanium Dioxide a natural
sun block, Mica with light reflecting properties and Iron Oxides to
produce subtle colours.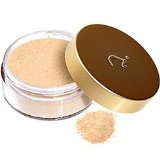 Light Weight AND Versatile!
Natural mineral make up like Jane Iredale Amazing Base is lightweight enough to provide sheer coverage for a lovely youthful effect and versatile enough to increase coverage for problem areas without ever looking heavy.
Unlike normal foundations there are no added oils that can clog pores or produce shine. One of the reasons why mineral make up foundations last all day. Their luminosity minimizes the look of wrinkles and pigmentation and reduces shadows whilst always staying color true.
A Formula for All Skin Types
With no added chemicals, perfumes or oils most skin types will benefit. Women with sensitive skin, oily skin, rosacea, even acne
will find this type of make up comfortable and easy to wear.
For very
dry skin there are now fluid mineral make up products with formulas
designed to provide all the benefits plus a moisture boost!
Occasionally some women find that mineral make up products can cause
itching. This is due to a mineral called Bismuth Oxychloride and there
are a number of products made without this mineral so look for one of
these if you have had this sort of reaction before. You can even wear a make up primer
under mineral make up to further minimize pores and even your skin tone. This
will also act as a barrier if your skin tends to light itching.
It's the Swirl, Tap and Buff that casts the spell!
It's easy with a little practice but I have found a video to show you how it's done. The secret is in using less and buffing until the warmth of the skin makes the make up almost creamy.
Takes a moment to perfect but the result is a younger looking, glowy, complexion. Magic!
Perfecting a new technique can take a little time but in the case of natural mineral make up it is worth every moment.

Do IT For You!
Make up Techniques for Mature Skin
Make Up Foundation for Older Skin
Very Best Anti Aging Moisturizer
Best Exfoliator for Mature Skin
View All My Pages for Mature Women on the Site Map

Return from Natural Mineral Make up to Homepage