Foundation Primer Magic!
How to Apply to Very Mature Skin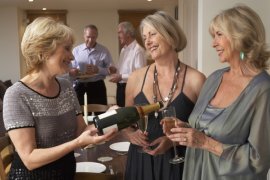 Foundation Primer is changing the
Face of make up for older women...
and here's why.
There is a make up primer to correct almost every skin imperfection and if you are 60+ that can mean uneven skin tones, redness, tiny veins and wrinkles or enlarged pores. It is applied under the make up foundation to perfect and prime the skin.
Here's a test!
If you can't believe that these weightless, invisible products can camouflage imperfections and enhance your complexion? Go to a beauty counter and use the tester to try it out on a small area on just one side of your face, perhaps around one eye or on the lines around your mouth and compare the difference!
Converted?
How To Cast The Foundation Primer Spell!!!
Cleanse your skin and and pat dry. Use your normal moisturizer and eye cream and allow a few moments for this to be absorbed.
Decide which area you want to apply the primer to first. Use small amounts to minimize lines and wrinkles
around the eyes blending and patting gently to fix. Take a little more
and work on the area around the mouth. Enlarged pores on and around the
nose can also be easily camouflaged. Once the product is absorbed don't blend or rub any more as this will make the surface uneven.
If you are using a correcting foundation primer to neutralize redness apply in the same way to cheeks and chin or wherever your face flushes.
You can apply make up primer to the entire face to enhance complexion color, freshen pallid skin and cover age spots. Or just apply to problem areas of wrinkles, redness or enlarged pores.
When the product has been absorbed and you are happy with the effect, you can pat on and gently blend your chosen foundation for the smoothest and brightest complexion you have seen for years!
This Photo Finish Foundation Primer
with SPF 15 is illuminating and has special hydrating qualities which make it perfect for smoothing and plumping very mature skin. See if you can get some samples at the make up counter.
There are lots of correcting foundation primers available but don't be put off. Use the help on my make up primer page to choose the right one for your needs.
Daytime, Night Time, any Time!
Whether you want a flawless complexion for a special day or evening, or
every moment of every day, foundation primer is going to become an essential item
for us over 60's.
I make no secret of the fact that applying these products perfectly
needs a little practice so I have compiled some more tips on make up face primer and a video to help you. You will love the effect and quickly learn that there
are eye make up primers and lipstick primers all designed with the same
goal. Preparing a perfect canvas for a long lasting make up!
Some of
the newest make up techniques make it so easy to look great at any age. Why not try something new!
A good skin care routine pays off!
A sound basic knowledge of anti aging skin care is the key to making the most of very mature skin.
Never leave your make up on over night.. it has been said that we age a
week for every time! Exfoliating regularly but gently is good for most
skin types keeping flaky patches to a minimum or excess oil in check.
Experiment but don't overdo it!
Try the test..
begin practising and..
take ten years off your age!
Make Up Foundation for Mature Skin
Make Up Ideas from Karinda Ristic
View All My Pages for Mature Women on the Site Map

Return from Foundation Primer Magic!to Anti Aging Homepage