Make Up Face Primer:
How To Use On Very Mature Skin

Video Page!
What can a Make Up Face Primer do for your complexion and make up?

Here are the keys to choosing and using a make up primer on very mature skin.
Tips, types, budget and luxury. Just for us, 60 plus!
Things You Need To Know About
The Make Up Face Primer.
This product is not a make up. It is used to enhance and correct the appearence of the skin before make up.
Neither is it a skin care product as enhancement is only visible not physical improvement. Primers are used purely and hugely effectively to enhance the look of skin and make up.
Make Up Face Primers are multi taskers!
The main magic lies in their ability to:
Smooth texture and minimise lines and wrinkles. Crows feet look flatter and crepy eyes
can appear much more smooth. Labial lines from nose to mouth and tiny
lines around the mouth can appear reduced leaving skin looking more
firm.
Camouflage enlarged pores so typical of aging skin and form a cosmetic veil that adheres to make up, putting an end to the dreaded orange peel appearence around nose and mouth.
Enhance, brighten and illuminate skin color whilst rendering
age spots and darkness less visible. Most effective on ruddy cheeks,
darkness around eyes and pallid, lack lustre skin color.
Like most products there are good all rounders and others that
are geared to specific problems. Some are better at correcting color and
offer less effectiveness on wrinkles. Whilst some are designed to
camouflage enlarged pores and wrinkles but offer no color correction.
Smashbox Photo Finish – 6 Solutions!
Probably one of the most popular brands is Smashbox, who have given us a whole array of primers to minimize every imperfection.
The original Smashbox Photo Finish Foundation Primer
is colorless and offers all the advantages of a make up primer without
complexion color enhancement. Perfect if your skin color and clarity is
good but you need to correct skin texture and reduce lines and wrinkles.
Smashbox Color Correcting Primers are:
BALANCE
is lavender-toned to brighten dull or sallow skin.
ADJUST is green-toned to neutralize and reduce redness.
BLEND
is apricot-toned to even out skin tone and counteract discoloration and dark spots.
All boast the full range of texture and wrinkle diminishing qualities in a sheer primer that means you need less foundation.
Finally, for those with sensitive acne prone skin a lighter version of the Smashbox original is PHOTO FINISH FOUNDATION PRIMER LIGHT

Tip: If you want to experiment with Smashbox make up primers buy the smaller travel tubes, less expensive and handy too.
I found a 4 minute video which gives you more information
about the application of make up face primers and the different types
available to address various skin problems.
Reduce Enlarged Pores and Shine!!
And finally.. this make up face primer is the best one I know for oilier skin when your main problem is enlarged pores. Clinique Pore Minimizer Instant Perfector
It has the silkiest of textures and a soft matt finish. It de-shines and instantly refines and minimizes open pores and leaves the skin with a more youthful smooth finish.
Your make up will last longer, even in warm weather or at parties because it resists perspiration and humidity. Invisible deep and invisible light, both sheer to blend with make up shades or wear alone.
Clinique have created a whole range of fabulously effective Pore
Minimiser skin care treatments which promise to see off the problem of
enlarged pores forever.
Bare Vitamins Prime Time
is a make up primer worth a mention here for those who prefer mineral
make up. If you love the concept of mineral makeup but can't get it
quite right try this BareVitamins Prime Time Foundation Primer
to smooth out any little problems before applying make up. You can use
it under loose or pressed mineral make up or liquid foundations.
These are just a few of the types of make up face
primer that I know well and my readers review favorably. You may find
your favorite cosmetic or skin care company make one too.
If you are not sure, see if you can get a tiny sample at the
cosmetic counter. I know how difficult it is to make a decision when you
are on an economy drive.
Want to read more about how to apply foundation primer for the best results? Or which make up primer to choose
for oily, dry or sensitive skin? Hope these pages help but don't forget
you can also try them on your skin at the make up counter. Get the consultant to try it out on half your face and show you the difference. Some
companies like Smash box do a travel size which is great if you are
experimenting.
Make Up Foundations for Mature Skin
View All My Pages for Mature Women on the Site Map

Return from Make Up Face Primer to Homepage
My Anti Aging in Action Newsletter keeps you updated. Subscribe now and get a
Free Copy!
of my e-book "Getting Back in Shape After 60!"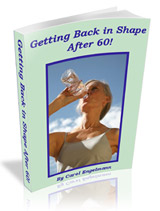 align="center">