Look Ten Years Younger
& Ten Pounds Lighter!
Who wants to look ten years younger?
In her book
How Not to Look Old
Charla Krupp offers us a fast and effortless alternative to "growing old gracefully"
She has identified all the things that betray our best efforts and she shows us exactly what to do to look younger.
Each chapter begins with "Nothing Ages You Like" and goes on to point a finger at bright eye shadow, flesh coloured panty hose, droopy boobs, skirt lengths, how not to wear jeans and a blast on comfortable shoes!
Charla's message is anyone can look ten years younger and she gets it over in a way that makes you smile at your own mistakes.
This book gets you out of your comfort zone and encourages you to make some important changes.
The basics of looking effortlessly chic involve tossing out some of the old rules… Ideas we haven't challenged in ages, to adopt some exciting new ones. Just a few…
Black and navy together?
Jeans only for daytime?
Matching colours perfectly?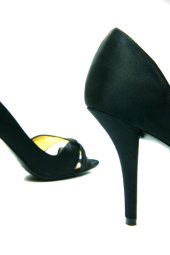 Charla's new rules might surprise you but you will see the effect in evidence on the young looking, effortlessly casual women all around you.
There are lists of all sorts of do's and don'ts, wardrobe essentials, a jeans cheat sheet, things to throw, skin care routines and a stiletto strategy.
Beautifully illustrated with "too old" and "just right" pictures it's easy to see
How Not to Look Old
I loved the section on underwear. Think thongs, flimsy lingerie, NOT Charla! She talks about the hardest working pieces in our wardrobe! You will learn more about shape wear
and how it lifts, shapes, minimises and hides ten pounds.
Under brilliant buys in this categorie there is information on how to shop for shapewear , which pieces do what and where to buy them.
Just before the list of best addresses there is a Putting it all together page with the Top Ten Tips on
How Not to Look Old: Fast and Effortless Ways to Look Ten Years Younger, Ten Pounds Lighter, TEN Times Better
Fabulous Faces – Facial Plastic Surgery
New Makeup Ideas for Mature Women!
New! Experience Your Good Now by Louise Hay
How to Look Younger and Thinner Tonight!
Anti Aging Exercises
Walking For Weightloss
How to Stop Drinking Alcohol & Have More Fun!
Back to My Book Case Hub
Find All Page Titles for Mature Women on the Site Map
Return from How to Look Ten Years Younger to Homepage