Learn How to Improve Your Memory
with Superfoods!
Video Page!
Interested in how to improve your memory?
Do names, places, appointments, passwords, pin numbers and digital everything sometimes give you an embarassing temporary amnesia?
Numerous studies have shown that a healthy anti aging diet can improve brain cell function and increase memory.
At our age it is imperative that we provide our brain with all the assistance we can give it via a super healthy diet which should include:
Vitamins: B12, B6 ,C and E
Folate
Calcium
Magnesium and
Betacarotene
Sounds daunting but it's simple. What we need is a good
healthy diet .
Visit our Super Foods section and find out how to improve your memory with foods that can further enrich your healthy diet, there are some fabulous recipes too!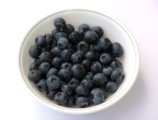 Dark Reds, Blues & Greens
Fruits and vegetables especially the dark reds, blues and greens. Think aubergine, and blueberries. Broccoli, beetroot, spinach and brussel sprouts. Dark green veggies are very high in folate(folic acid) which is said to improve or even reverse memory loss.
Oily Fish
Choose oily fish like Salmon, Sardines, Mackerel, Herring, Eel and Tuna, they have more Omega 3 fatty acids. Nuts are also a good source of fatty acids so if you don't eat fish they are an excellent alternative.
Cup of Tea?
More good news is our beloved cup of tea also boasts a combination of antioxidants called polyphenols. And what's more there are thought to be 10 x more in tea than in vegetables.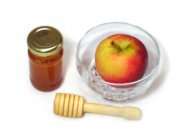 Honey
Tip for sweet lovers: Research carried out in 2007 at the University of Waikato in Hamilton, New Zealand shows that diets including honey may be beneficial in decreasing anxiety and improving memory. Honey is thought to boost memory due to its antioxidant properties, which help to prevent free radicals damaging cells in the body.
Herbs
Herbs have also been used for centuries to aid memory and brain function. Rosemary, Ginko and Ginseng are popular.
Vital Water!
Water is the single most neglected part of a healthy diet.
Our brain tissue is 85% water and if we become dehydrated it can seriously inhibit brain cell function. Water is vital for the whole body, our skin and the brain. If you would like to know more go to Why is water important?
Healthy Eating Guidelines
If you are following a healthy diet that is good for your heart you can be sure that it's good for your brain too. Your 5,6 or 7 a day fresh fruits and crunchy vegetables (try juicing them) are all important. Choose whole grain rice, bread and pasta wherever possible. Eat lots of fish, poultry (without the skin) and lean meat. Now comes the bit that most of us forget.. drinking! It is essential for the brain to stay hydrated. So drink lots of water and avoid excessive alcohol and other drinks that dehydrate as this can add to fuzzy thinking and memory loss.
There are of course many other ways of how to improve your memory. Regular exercise, sufficient quality sleep, memory exercises and good social life.
Anti Aging Vitamins In a Glass
Cooking To Preserve Anti Aging Nutrients
How to Stop Drinking Alcohol Easily!
The Definition of Wellness
View All My Pages for Mature Women on the Site Map
Return from How To Improve Your Memory to Homepage