Natural Anti aging Nutrients




and How To Preserve Them!



How to get the best out of natural anti aging nutrients.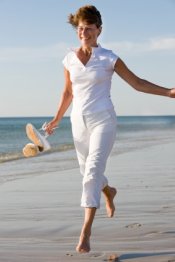 Our Goal is to leave all the fry-ups, chips, roasts and thick sauces behind us.
We are on a mission to incorporate anti aging foods into our diet and we want to find new delicious ways to prepare them without sacrificing any of the natural taste or nutrients.
Here are a few ideas of mine but as always I urge you to find the bits that you like and build on them. Experiment, try new spices and discover herbs you never used before. Are there veggies in the supermarket that you have never tasted?
Hold up your vision and follow me….
Steaming:
You will find this an excellent method for fish and vegetables. The
veggies retain their beautiful colours. An indication for me that the
anti aging nutrients are intact too. I use an electric steamer with two
baskets. I place the chopped vegetables in the baskets (those that need
longer on the bottom) and sprinkle over some fresh or dried herbs.
Switch on and I'm free to prepare the fish or meat. After a few times
you will know exactly how many minutes different vegetables need. The
steamer works well for fish too but I prefer poaching, baking in foil or a
cooking bag. I use the juices then as a sauce, mm..
Poaching:
This is ideal for fish or chicken. Use a little water or stock with
wine, herbs, or seasoning to flavor. Do not allow the fluid to boil as
this will damage the anti aging nutrients in the food. A very gentle
method for fish fillets that ensures soft moist flesh.
Baking in foil or cooking bag:
This is brilliant for whole fish. We love to experiment with seasoning,
herbs and lemons and sometimes with the more exotic spices, soy, limes,
ginger etc. You will be surprised at the fabulous sauces that are
produced totally without fat! Great tip for losing weight! This method
can also be used for small pieces of meat or fish with spring onions,
peppers, green beans or whatever you fancy.
Grilling:
is best for fatty fish if you are trying to lose weight as some of the
fat will drain away instead of remaining in the sauce. However don't
forget that these are good fats and full of anti aging nutrients.
Vegetables like aubergine, courgette and peppers grill well too but will
need a light brushing with good olive oil.
Avoid roasting as this involves more fat and higher
temperatures. Deep and shallow frying are taboo as the high temperatures
damage the nutrient rich food and we don't want the bad fats!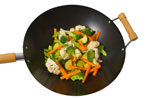 Stir-Fry:
This is the only exception and is very versatile. Food is cut into
small or very thin pieces and cooked in a wok in small batches very
quickly. It is OK to use a little oil and top up during cooking with
water, stock or wine. This method lends itself beautifully to all sorts
of experiments with your favorite herbs and spices. You can rustle up
something fabulous with what was left in the veggie drawer of the
fridge!
Whichever method you choose, do it your way. Use all your favorite healthy foods in your anti aging diet and look for ways to make them taste even better. Enjoy the
taste of the food, the herbs and the spices instead of thick sauces. If you
are entertaining and want to use these methods you can add a little low
fat cream to the juices to make the meal a little more special.
Juice up Your Life!
Juicing is a fresh, delicious non-cooking way to serve fruits and vegetables preserving a high percentage of nutrients. It's simple, healthy and can help you lose weight. Take a look at the juicing basics and see for yourself! You can follow healthy juicing recipes or make up your own. Luxury smoothies with exotic ingredients or simple everyday breakfast replacements.
Using age old recipes you can even whip up a a powerful remedy for insomnia, indigestion and many other common ailments.You can find these at Juicing Recipes for good health
Above all know that these little changes are preserving vitamins and anti aging nutrients for a healthy body, dewy skin and a totally new shape!
You will smile back into the mirror
and wonder why you didn't do this years ago!
TIP! How To Lose Pounds In Time For The Next Big Occasion!
Here's a list of all the pages about anti aging diet to help you find what you need.
Need a little help to put your dieting motivation on auto pilot?
Tips on Weightloss for Mature Women
Healthy Juicing:Get Your Vitamins in a Glass
Find all Page Titles for Mature Women on the Site map

Return from Anti Aging Nutrients to Homepage