Healthy Breakfast Foods
Boost Energy and Your Mood!
Healthy breakfast foods are the key to..
Abundant energy
Good mood
Weight control and weightloss
Health and wellbeing
and.. everything anti aging!
If skipping breakfast is your way of saving calories, you are in fact sabotaging all of these things.
Because skipping breakfast can lower metabolism, rob you of energy and leave you head-achey and bad tempered. Your resistance is low and you may grab the first bun that crosses your path!
Women over 60 often tell me they don't have the energy to exercise. Lack of exercise leads to weight-gain and that leads to skipping meals and then lack of energy and so we go around. Let's break that cycle and look at some quick breakfast ideas that will get you off to a good start in the morning.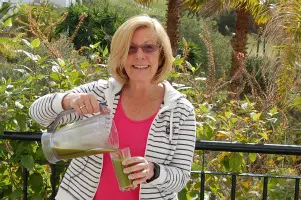 If you are doing the Back to Fitness Challenge with us you may already know about eating a high energy diet . It's important to eat complex carbs. That is foods that release energy more slowly and so keep you full longer. The healthy breakfast foods here also have what I call the feel good factor.. they deliver bags of vitamins, emzymes, selen, magnesium and good fats!
Drink your fruit and veggies
Fresh fruit and veggies are the finest health foods on the planet and a great way to enjoy them is in breakfast smoothies or healthy juices. A juice or smoothie before you walk or exercise in the morning in easily digested, boosts energy over a long period and tastes like liquid sunshine. Juice your favorite fruits and or veggies and blend with a banana or half an avocado and some ice cubes for a smooth and creamy energy bomb!
watch this juicing basics video to get started or try adding the anti aging all rounder spirulina powder or wheatgrass to make this healthy juice a Nutrient Power House!
Mix your own muesli
It's a fact that most packaged cereals contain large amounts of sugar, salt, sometimes E numbers and precious little nutrition. (Just look at the label)any healthy breakfast foods in there??
Get the power of the real thing without the additives by mixing your own! Choose oats, and flakes of barley, buckwheat, quinoa or rye and mix with your favorite chopped nuts, dried fruit, sunflower seeds and flax seeds. You can get all these ingredients at your health store and mix them in an airtight container ready for use. You can eat your wonderful muesli with low fat milk topped with half a banana or scatter a little on a plain joghurt with berries.. delicious!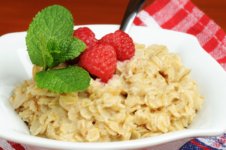 Need something warm?
Oats cooked with low fat milk or water and served with berries or banana taste fantastic on a cold day and besides delivering all the energy you need, porridge is believed to lower cholesterol! Despite what you learned from your Grandmother don't be tempted to add salt or sugar. A tiny amout of natural honey is OK but it's better if you get used to not sweetening so the energy lasts longer. It works.. I promise!
Wholegrain treats
There are some wonderful wholegrain breads, wraps and rolls out there today that taste fantastic and deliver complex carbs that will keep you going all morning. Don't get confused by all the brown breads that are simply white bread with a little rye thrown in or even worse, added coloring. This stuff is NOT baked with wholegrain flour. Eat your toast with a smear of almond spread or peanut butter and banana or fill a wrap with scrambled egg. As long as you don't resort to sugary jams a wholegrain breakfast will boost your energy and keep it there till lunchtime.
Fruity & Fresh!
Plain live joghurt with berries or chopped fruit is a wonderful fresh wake up call for your taste buds in the morning! Berries, kiwi or just a sweet apple with chopped almonds or any other nuts you like topped with a few sunflower seeds or dried berries. Eat these healthy breakfast foods slowly and savour all these beautiful fresh tastes and get ready to walk even further today!
Anti aging means staying fit and healthy. The following foods will sabotage your fitness regime by causing energy slumps and weightgain. They are packaged cereals, white bread and waffles, muffins etc baked with white flour, sweet sauces, spreads and jams. Full fat cheese, joghurt and milk, fried foods including bacon sausages, potatoes and juice in cartons with added sugar. The labels tell you how they will do it! Sugar, salt (sodium), fats and E numbers..
Try the healthy breakfast foods for just one week and you will feel the difference in your energy level and your mood. Send your healthy breakfast recipes to us via my contact me page and I'll publish them with your picture if you have one.
Back To Fitness Challenge!
Super Foods For Super Health!
Eat Smart Move More!
Fitness Walking Program!
View All My Pages for Mature Women on the Site Map
Return from Healthy Breakfast Foods! to Anti Aging Homepage