Back To Fitness Challenge!
What is the Back To Fitness Challenge and how will it help me?
Our Problem
Gradual weight gain and lack of energy are difficult to cope with as we get older. If the annual increase of pounds around our middle, upper arms and thighs is not kept in check it can have a devastating snowball effect on our confidence, our mood and our health. The best anti aging fitness strategy of all is maintaining a healthy (preferred) weight and staying active.
The Effect
Extra pounds make us lethargic and sometimes even moody. We're less likely to exercise which makes the problem worse. At first we might be happy to listen to the women who tell us "a few pounds more is OK as we get older" and just buy more comfortable clothes. Later when our personal style of dress has totally disappeared we know the problem is acute and we are unhappy. Do you feel ridiculous when you have tried on everything in your wardrobe before a special night and nothing looks like it used to?
Round and around we go thinking should I just give up or is there something I can do?
A Solution!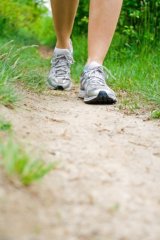 I want to encourage women of 60 plus to take part in the Back to Fitness Challenge to prove to ourselves that there is something we can do. Actually lots that we can do and I'm not talking about crash diets or running marathons. You can join in and get all the updates FREE on My Anti Aging Blog or on my My Anti Aging in Action Facebook page. See you there!
The back to fitness Challenge helps us build a routine for life that will improve our body strength and boost metabolism. It is based on a fitness walking program with short do-able exercises and high energy diet foods. We can learn how to eat smart move more to achieve and maintain our preferred weight and to look and feel wonderful!
There is no doubt that losing weight and getting fit again is complicated at our age. But I want to tell you that no matter what you weigh or how unfit you are it is possible to get fit, lose those pounds and be a healthier and happier version of you! Download your FREE fitness charts NOW to motivate and monitor your success!
Are you ready?
We will begin in January but you can join the challenge at any time. Every day you will get more information, tips and tricks to help you build your anti aging fitness routine and a healthy eating way of life. You will be able to connect with women of our age group on the same mission. Exchange ideas and progress updates.
For now you can find lots of information in our Getting Back in Shape section. After the 9th you can get daily input on my "60+ Just for us" Blog or join us on the Facebook Anti Aging in Action page to connect and enjoy the motivation that doing it together offers. Diet fitness goal setting and much more!
Breakfast Smoothie Recipe for More Energy!
Healthy Breakfast Foods – Get Off To a Good Start!
Fitness Training Plan for Women 60+!
View All My Pages for Mature Women on the Site Map
Return from Back To Fitness Challenge! to Anti Aging Homepage