The Anti Aging Wrinkle Treatment
We have been waiting for!

More Collagen Anyone?
Can an Anti Aging Wrinkle Treatment help our skin cells to produce more of the stuff that younger skin is made of?
Now Available
the new Vichy Liftactiv Derm Source is said to do just that!
Used daily, the cream targets the collagen making cells directly and encourages them to produce more collagen.
A French innovation from the company L'Oreal, this anti aging cream is validated by scientific research and is poised to change anti aging skin care history!
And Here's How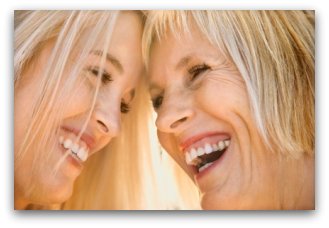 Most of us know that collagen is the structure that supports the skin giving it plumpness and elasticity.
By 60 we know too that it's the collagen that is missing. The production slows as we get older and the result is flatter looking skin that sags and forms wrinkles.
Until now we have chosen creams containing collagen in an effort to boost the skins collagen and recover the youthful, firm and supple look we so miss. Scientists though, have often argued that the collagen molecules in the creams are too large to be absorbed by the skin and so could have little or no effect.
An Inside Job!
In
the L'Oreal laboratories they were looking for an alternative to trying
to get collagen into the skin. Instead they found a way of encouraging
the skin cells that make collagen to produce higher levels of collagen just as they do in a younger body
It seems there are many cell types that produce collagen but those called papillary fibroblasts
are the ones that contribute the most to the skins bounce and texture.
After this discovery the scientists tested thousands of naturally
occurring compounds to find the one that would push up the level of
collagen production in those cells.
Vichy Liftactiv Derm Source Anti-wrinkle and Firming Care Dry Skin
The compound in Liftactiv Derm Source targets the important cells directly to achieve amazing results.
Women using this anti aging wrinkle treatment for 8 weeks reported noticable shortening of lines and decrease in the depth of facial wrinkles.
Count Me In!
This product is now available under the brand name Vichy as Liftactiv Derm Source and as predicted is flying off the shelves.
Were you at the front of the queue to Lose a Decade?
Write a review on our Reader Submission Page Best Anti Wrinkle Creams if you tried this anti aging wrinkle treatment, we would love to hear your opinion.
Remember
that any anti aging treatment is only as good as the skin care routine
it's part of. If you need to up your daily skin care game read this
advice on essential anti aging skin care. Get to know the active ingredients in anti wrinkle skincare
and how they work on very mature skin. You can then cut through the
hype, ignore the luxury packaging and make informed choices!
Anti Aging Skincare for Older Women
Best Anti Aging Cleansers for Older Skin
Anti Aging Skin Care The Big Picture!
Make Up Face Primer, Prepare for a Perfect Mature Skin
Find All Page Titles for Mature Women on the Site Map
Return from The Anti Aging Wrinkle Treatment to Anti Aging Homepage