Cake Decorating: Learning, Creating
& Staying Young!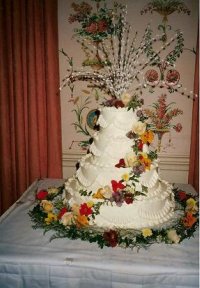 Our Guest Author: Lorelie Carvey is Cake Decorating Wizard and the creator of
Wedding Cakes For You
A new hobby?
Cake decorating is one of those creative activities that can be started at any age, and at all levels.
Creativity in all forms can help to keep us feeling young.
Case in point: I recently taught a decorating cakes class and was pleasantly surprised to have a woman in her 90's sign up. It was something that she had wanted to try her entire life and was finally doing it. It was such a joy watching her beam as she mastered some of the basic techniques such as making buttercream roses and basketweaving. It made me realize that we are never too old to learn or to start something new and exciting.
No skills yet?
Don't worry if you don't have the skills yet to do as my senior student did on that first night. You can literally arrange a few fresh picked flowers from the garden or a nearby field onto your frosted cake with some pretty candles to present to your loved ones.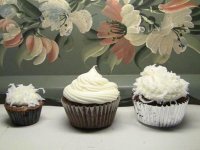 Baking and decorating cakes as a hobby slows everything down to a nice relaxing pace. No need for a baking degree, just follow the recipe. The smell alone emanating from the oven as your cakes bake, can bring back warm and wonderful memories which feeds our souls.
The good feelings that we get when we give a gift, especially food, to others makes this hobby extra nice. You can give your beautiful decorated homemade cakes to friends and family and always have a special place in their hearts and memories.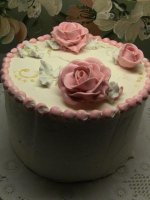 Endless ways to decorate..
Pretty much anything goes in today's cake challenge world. There are countless ways to experiment with unique ways to embellish your confections. Marshmallows cut up and dipped in colored sugar can be used to make flower petals, assorted candies used in a variety of ways and tiny fresh flowers combined with buttercream swirls, roasted nuts, coconut and cake crumbs are simple ways to impress your friends.
Decoration supplies abound in craft stores and online. New and fabulous decorations are lining the shelves now. For example. Sparkle dust and colored fondant, and all kinds of tools that were not available to me when I started way back in the 80's.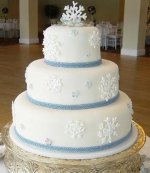 Take it to another level!
Eventually You may want to take it a step further and learn some more advanced decorating techniques. You can find an amazing amount of helpful information, videos, pictures, forums and so on to get free cake decorating ideas online. Here are some examples of great ideas that can be found on my cake decorating picture page These photographs are
kindly shared by people all over the world along with stories on how they got started, recipes, techniques and ideas.
Cake decorating classes are fun and help us to meet new people which always spark new ideas and friendships. Having girlfriends to hang out and chat with while being creative is important for our health and to keep us feeling younger.
If this is something that you have been thinking about doing but have questions, please ask me anything about baking, decorating and wedding cakes.
An income possibility!
Be aware though that this hobby can turn into a business! Quite often people who really enjoy baking and decorating start to consider making this innocent little hobby into a full blown business. Nothing wrong with that…
To those of you who have questions about starting a hobby or a cake decorating business, Wedding Cakes For You has a questions and answers page for all.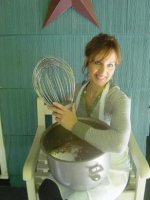 About Lorelie Carvey
Lorelie has been adorning cakes since 1985 when she was asked to make a wedding cake for her girlfriends wedding. There she met her husband, started apprenticing at an upscale French Bakery as a professional cake decorator, and eventually started her cake business, all from an innocent little hobby.
Baby Boomer Women in Retirement
Online Photography lesssons
Profitable Hobbies for Retirement
Hobby List for Mature Women
Follow Your Dreams!
Back to Hobbies for Women Hub
Find All Page Titles for Mature Women on the Site Map
Return from Cake Decorating to Anti Aging Homepage