Your Anti Aging Tips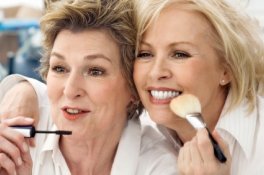 I am thinking if you found this page of anti aging tips you are probably NOT one of the totally styled, high maintenance beauties we see floating out of the doors of exclusive Spas!
I
suspect you love beauty tips and all the girly stuff but don't want to
spend your cash on high end products and expensive wrapping!
It's all about sharing!
Most of us have short cuts that work and save us money.
Often the only time we get to share them with our friends is when they
are telling us they have just gone out and paid a fortune for something
that might.. only might get the same result!
I have never been in
the position to spend unlimited amounts on skin care, cosmetics or
fragrance although I adore such things! This is why I want to ask you
all to share your anti aging tips with us here on this page. Anything that can stretch the boomer budget
is welcome. It could be a product that is low cost and really gets
results on older skin and there are plenty of them. Or maybe you know
something about facial exercise.. costs nothing besides the dedication
to do it and I am told produces good results. Cosmetics can be expensive
but if you have found the eye shadow that travels without breaking into
a thousand pieces and actually stays put on your eyelids too! Tell us about it!
Lastly
it's not all about money perhaps you have a "how to" trick to share or a
style idea that takes years off you! There are no rules here just a
pooling of mature woman experience for the benefit of us all.
Got an anti aging tip?
Don't just tell your friends..
Tell us all!
Make up tips
Skin care tips on a budget
Your favourite products
or your special know-how!
These tips and tricks we learn from each other help us to stay up to speed and show the world the best possible version of us!

Read anti aging tips from women around the world and add yours!
Don't worry if you don't have a picture, I have loads!