Super Healthy Onion
Essential Nutrients and Flavor!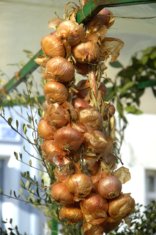 Although the thought of their preparation can bring a tear to your eye, the super healthy onion is one of mankind's oldest and healthiest food staples. Onions (as well as their close cousin garlic) offer an abundance of health benefits that go far beyond the flavorful goodness they bring to any recipe. Onions boast anti-mutagenic (anti-cancer), anti-diabetic, and anti-fungal properties as well as are highly regarded for their anti-inflammatory properties.
Super healthy onions also aid in boosting red blood cell membrane production and overall blood circulation. They also aid in stabilizing blood sugar spikes aiding those with diabetic concerns. They are also good to add to your diets when you find you are suffering from or concerned about the onset of colds and flu.
Vital Nutrients
Vitamin C
Manganese
Vitamin B6
Flavonoids and phytosterols for anti-oxidant production
Super Healthy Onion Tips
Most of the Flavonoids are found in the outer layers of the onion, so try to only peel off as little as necessary to maintain the nutritional integrity of the onion.
The onion is fortunate that most of the Flavonoids that are of nutritional value do not totally dissipate when boiling as some other vegetables do, they simply transfer into the liquid. This is why onions included in soups are a very healthy addition.
The chemical allyl-sulfide in onions is released when cutting.
This mixes with the moisture on our eyes and creates sulfuric acid when we slice them, thus the tearing effect. Much of the ally-sulfide is concentrated near the root end. By slicing this end off and immersing in cold water for a few minutes as opposed to slicing under cold running water (which can wash away some of the valuable nutrients), you can reduce some of the tearing effects onions give off. (Goggles are an option if you are an extreme sufferer!)
Take a look at the Three Onion Slaw recipe below, fresh and crunchy it's perfect for Summer BBQs!
Three Onion Slaw
1 Medium Red Onion
1 Medium Yellow Onion
1 small Bunch Scallions
1 Lg. Carrot
1 Lg. Stalk Celery
1 Lime
1 Tbsp. Stevia Sweetener (Natural Sweetener)
1 Tbsp. Apple Cider Vinegar
1-2 Tbsp. Cilantro (or Italian Parsley if preferred)
1 pinch red pepper flakes (Optional)
Julienne the onion bulbs, celery, and carrots and place into bowl. Slice scallions and add to bowl. Add the zest and juice of one lime. Add 1 packet of sweetener (Stevia is a healthier alternative than sugar or aspartame products. Honey can also be used.) Add vinegar which will complement the lime's acidity and also help pickle the onions slightly. If you like a bit of heat, add a pinch of red pepper flakes.
Add the cilantro to the mixture just before serving–amount according to taste.
Mix and cover and place in refrigerator for about an hour to allow juices to mix and for the sweetness of the carrots to mix with the sweetener (or honey.) The acids will also slightly tenderize the vegetables.
This super healthy onion recipe is excellent served on a slice of ripe tomato, and/or a slice of avocado–layer all three for a refreshing salad! Garnish with a sprinkle of the scallion and cilantro.
Lots more mouth watering superfoods clearly explained and with simple and delicious recipes here on our Super Foods List
Lots more mouth watering superfoods clearly explained and with simple and delicious recipes here on our Super Foods List
Preserve Anti Aging Nutrients, Best Cooking Methods!
Anti Aging Vitamins in a Glass!
Super Foods for Super Health Hub
View All My Pages for Mature Women on the Site Map
Return from Super Healthy Onion to Anti Aging Homepage