A Salon Facial
Amazing Anti Aging Skincare Treatment!

Video Page!
Not Magic.. but a magical effect!
Before a special occasion a single salon facial can refresh dull skin and bring instant radiance to your complexion. But that's not all.. For women over 60 a regular facial can have amazing long term anti aging effects.
I know you use good skin care products and your daily routine is the
holy grail but here's how the salon facial can achieve so much more!
What is a Spa facial?
A spa facial begins with a skin analysis
by a professionally trained beautician. The products she chooses for
your treatment contain highly effective ingredients which address your
skin's needs exactly. In one very relaxing hour your face and neck are deep cleansed and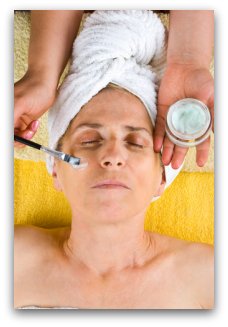 exfoliated with salon stregth products. Your face is scanned for impurities and if necesssary these are gently extracted.
A soothing massage follows where light finger strokes can enhance circulation and help to drain lymph
blockage reducing puffiness especially around eyes. There is also an
alternative machine aided massage which sofltly boosts the oxygen in the
skin and drives essential ingredients deeper into the skin's layers.
The icing on the cake is the final mask. For mature skin a cocktail of deeply hydrating, collagen boosting and nutritious ingredients are absorbed into your skin whilst you relax to soft music and just float away!
MY TIP
Get your eyelashes tinted during the treatment and make the most of short, sparse lashes. If you can see them better you can apply mascara to even the tiniest to thicken and extend!
Why..
Assessing
our skin type and condition is sometimes difficult. Sensitive skin is
often parched skin. Dry skin can have oily sections where impurities are
a problem. Your technician is trained to recognize and treat all skin types and conditions, nurturing sensitive skin and soothing irritation.
During
a salon facial your skin will receive exactly the treatment it needs
and the beautician can discuss with you further care at home. A good spa
will have samples for you to try at home before committing to a new product range.
The
professional massage is another prime reason to treat yourself to a
relaxing facial. Whether a hand massage or machine massage as in
Hydrodermie by Guinot your skin will benefit enormously. The massage is
relaxing, boosts lymph drainage and optimises product absorption.
A 10 minute video about The Guinot Hydradermie Facial.
Every blissfully, relaxing moment of a professional treatment is
planned with a view to balancing and restoring a comfortable, glowing
skin.
When and Which One?
Get my advice on the best time for a salon facial and how to choose which product is best for you at Anti Aging Skincare treatment.
Coming soon.. Facials at home! With products and How Tos!
Best Anti Wrinkle Creams Reviews!
Rev Up Your Anti Aging Skincare Regime!
View All My Pages for Mature Women on the Site Map
Return from A Salon Facial to Anti Aging Homepage