Medium Length Hair Styles!
Some may say you are playing it safe, but I call it "flexible." Medium length hair styles can offer the chic sophistication of a shorter shape, but with the versatility and style-ability that comes from having a bit more hair to play with. Whether you find yourself in a transitional phase, or are remaining in a classic holding pattern, medium length hair styles are a great way to express your ever-changing fashion expression.
Style-ability!
Medium length hair typically has a perimeter length falling near the nape line in the back and between the ear lobe and mid-neck on the sides.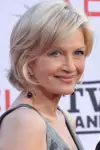 The wonderful thing about this length selection is that the hair is still long enough to feel feminine and offer security for those who feel naked without some hair to tousle. It is also short enough to be able to create a playful design by utilizing various angles and techniques that create movement and interest. For those who may have a few things they wish to draw attention away from, this is a great length to begin the illusion.
Basic Shape!
For most hair fabrics, the Bob and Wedge designs are a great place to start. Although a blunt Bob or a Dorothy Hamill Wedge may be okay for some right "off the rack", others may like to use these shapes as a starting point because of what they bring to the table. These shapes are relatively good for all fabrics, self-supporting, low maintenance, and have elements that flatter, slenderize, and are appropriate for all age groups. By strategically placing layers throughout the design, you can transition your style from traditional to trendy with relative ease.
Make It Yours!
I like to propose that those who choose medium length hair styles use two things to personalize their designs: texture and color. Texture helps you "tailor" your hairstyle as when you tailor your clothing. Often little nudges and tweaks can make the style "fit" you better and flatter your face and head shape. Adding soft bangs, a little bit of wispy accents or layers around your face, a subtle bevel or stacking to the nape line, or chipping into the ends makes the hair perform better as well as makes the style your own.
Accentuate With Color!
Using color to accent your medium length hair style can also really bring out the best in your design. Color not only adds a bit of volume through the color itself, it can also bring out focal points you wish to draw attention to. Adding a bit of highlights around the face adds youth, vibrancy, and a healthy spotlight on your eyes. Putting a spray of highlights on the crown can give the appearance of never-ending sunshine even when indoors. By selecting a color that most flatters your skin tone, your hair design seems to become more "yours" and works in harmony to become your best accessory.
Play around with your hair! Medium length hair styles offer a great degree of versatility that can change with your moods and the seasons. Through the simple incorporation of styling product hot tools, and a little imagination, you may find this to be the perfect length of hair to suit all of your fashion needs.
More Hair Pages?
I know that hair can be our crowning glory or our worst nightmare and it can change too as we get older. Here's a list of all the pages about hair to help you find what you need.
Update Your Hair Style Hub
View All My Pages for Mature Women on the Site Map
Return from Medium Length Hair Styles to Anti Aging Homepage