The Best Type Of Facial For Older Skin!
If you have decided to treat yourself to a facial you might be wondering how to find the best type of facial for your mature skin's special needs.
Video Page!
I could answer this question by reeling off a list of brand names for you to look for but I think that would only be a small part of the answer. There are many excellent professional facial treatments available in every country. The clue is to find the best type of facial for your needs. Let me list a few things we will be looking for in the best type of facial for women over 60.
A trained professional beautician. Look for diplomas in the salon or spa. These women are experienced and can identify skin conditions and treat them accordingly. They won't recommend big ticket procedures that can have little effect on older skin. Plus a well executed spa facial is bliss.. see video below!
The treatment will be at least an hour and the technician and the room should be impeccably turned out! Of course ask about the cost and if there will be any extras.
Don't just book an appointment ask what the beautician thinks about your skin. Ask her which is the best type of facial for you and why. Let her explain what you can expect during the facial.. Deep cleanse, exfoliation, extraction, massage and mask.
The beautician should be interested in you as a repeat client and tell you about various facials and what can be achieved. How often your skin would need the treatment and if there are products for use at home to support and continue the good work.
Samples will be available for you to try before you commit to a new skin care series.
Remember that a professional facial is still a luxury for most of us and we can expect a little pampering and extra special treatment.
Expect Results!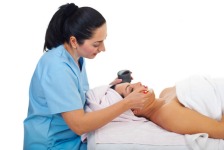 The best facial treatment for our age group will go some way to repairing damage caused by sun, elements and lack of hydration. So will include a good exfoliation by hand or means of a massage device or rotating brush.
Followed by a gentle extraction process that doesn't pull or stretch the skin. The massage is not just for relaxing.. well done, it can help drain lymph around the eyes and other areas of the face reducing puffiness. Whilst boosting circulation encouraging all of the skin's own healing and regeneration systems. Your technician will decide if the final mask is hydrating, firming, calming, soothing or a combination of these effects tailored to your skin's needs.
Brands?
My favourite is the Guinot Hydradermie salon facial but there are many others available for older skin. Clarins and Decleor are two more that I like. Each good Spa or salon will have one or two brands that have specialised treatments for very mature skin. Speak to your technician first and be sure that she understands what you are looking for. This is especially important if she is very young as she may not have much experience with clients of our age group.
Before my first treatment with my present beautician I told her that I was disappointed with the massage at another salon I had been to. Of course she does a wonderful job on my massage and I'm loving it!
Spa Heaven!
A professional spa facial should feel wonderful as well as having an amazing effect on the skin. This 10 minute video shows a perfect facial with additional pampering for hands and feet. If I lived closer I would be a regular client!
My Tips!
Particularly older skin responds instantly to such pampering but the best results can be achieved with regular treatments.
In some cases a series of treatments is recommended and often there is a special offer if you book a number of treatments.
If you have never had a facial spa treatment it is not wise to do it the day before a special event. Instead try it out the month before and if you love the results go again close to the big day. Just be warned your new look skin will become something you can't live without!
View All My Pages for Mature Women on the Site Map
Return from Best Type Of Facial For Mature Skin to Anti Aging Homepage