Nutrient Rich Tomato
A Powerful Antioxidant!

Whether or not you are in debate of the pronunciation of the name of the nutrient rich tomato or if it is actually a fruit or vegetable, it is hard to deny that the healthy tomato is a delicious addition to your daily diet. Tomatoes offer a variety of sizes and colors that bring a sweet and tangy flavor whether eaten alone or as part of a recipe. Usually best and most flavorful in the summer, tomatoes can still be found on your grocery shelves year round.
Tomatoes are known for their antioxidant component lycopene, yet they offer many other nutritional components as well. They can help reduce cholesterol, inhibit blood clotting, and also studies have shown their benefit in reducing risks of heart disease. They are also an excellent anti-inflammatory agent. The nutrient rich tomato has shown effective in reducing the risk of many cancers such as pancreatic, colorectal, lung, prostate, endometrial, and breast cancers in certain studies. These studies also show that it is not just any one singular component but a symbiotic relationship to all nutrients working together.
Vital Nutrients
Vitamins C, A, & K
Vitamin B6
Potassium
Folate
Niacin
Lycopene
Nutrient Rich Tomato Tips!
The Phytonutrients of the tomato will concentrate as opposed to degrade when cooked. They are also fat soluble so adding a touch of olive oil for example will aid in absorption. Consider creating a healthy homemade marinara as it is always a welcome and tasty option to receive all the benefits a tomato offers.
When selecting your tomato products such as ketchup and sauces, look for organic options. Certain studies have been done to compare the nutritional density of traditional brands versus organic brands and it has been shown organic is better.
In one study it was found that organic ketchup had three times the lycopene of its traditional counterpart!
Quick and Easy Gazpacho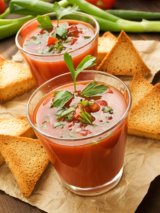 2 medium ripe red tomatoes
1 ripe yellow tomato
1 stalk of celery
1 cup diced English cucumber
1 cup bell pepper
Italian parsley
fresh garlic (minced or pressed)
8oz. organic vegetable juice (Low sodium)
Hot and Spicy sauce
Sea Salt and cracked pepper
Slice and remove seeds from tomatoes and then proceed by dicing the tomatoes into very small pieces and place in a mixing bowl. Dice the other vegetables in the same manner and add to the bowl.
Add about ¼ cup of chopped parsley to the mixture as well as 1-2 cloves of fresh garlic. Add the vegetable juice. I like this as it adds body and a complexity of flavor that really complements the mix.
You can add hotand spicy sauce to taste here or if serving guests, allow them to add to their own!
Add salt and pepper to taste and chill for about an hour to allow flavors to blend.
Place in decorative glasses Large martini glasses work great! You can garnish with a few chunks of the remaining vegetable pieces, a celery stalk and a drizzle of olive oil. If you are not worried about the calories you can also add a dollop of sour cream and some croutons as well! Enjoy!

Lots more mouth watering superfoods clearly explained and with simple and delicious recipes here on our Super Foods List
Super Foods for Super Health Hub
View All My Pages for Mature Women on the Site Map
Return from Nutrient Rich Tomato to Anti Aging Homepage