Hair Style Options
The Long, Medium And Short Of It!!
Do you sometimes feel a little insecure when it comes to hair style options at our age?
I do not know who started the rumor that at a certain age, a woman has to cut off all of her hair. It simply is not true. However there are a few caveats that accompany different length hair style options.
These are not only personal preference and style matching, but each length category offers certain benefits and hurdles you should know prior to making a decision.
Long Hair
When I say "long hair" there is a respectable limit. Long hair can start to draw the attention downward (and many prefer to fight gravity), so it is best to consider keeping your hair at a collar bone length (at its longest) for those of mature years.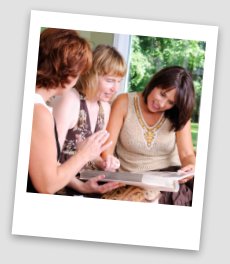 The key here is two things: First, make sure if you are going to have longer hair, keep it healthy. This means proper trims, good condition and shine, and nice even color.
And second, as far as the style goes, long hair does allow for chic chignons, sultry sweeps, and playful ponytails, but if you are to wear it down, get some layers around your face to soften the frame, add body, and make sure to give lift and volume around your face. You do not want your hair falling to where you look like you are peeking through a curtain. (Tip: Sweep it back and away from your face and also add some waves or soft curl for an uplifting allure!)
Medium Hair
Medium length hair style options play well with the classics. Your bob and wedge variations are easy to maintain, and can adapt to virtually any face shape.
They key factor here is personalization. I call it "tailoring." As you would with a nice skirt, make sure the lines fall where they flatter you best. As many worry about how a style looks from the front, make sure you also examine it from the profile. Tailoring allows you to texturize, layer, or bevel the lines to make them work for you.

I always tell people that if you choose a classic style, make sure you do at least two things to make it your own. For example, if you have a wedge, cut a long bang that blends into the sides for a youthful, current sweep allowing for a modern interpretation. Then do some subtle layers in the crown for added volume. The medium lengths will usually fall from an ear-lobe length to your mid-neck length. (Tip: Avoid hair that drags on the shoulders. Simple turning of your head will keep knocking out your style's support and cause it to go flat!)
Short Hair
Short hair does not have to be matronly, manly, or boring! As many do feel that short hair is not only flattering but an easy hair style option, it is the techniques used that keep it flirty and feminine. Using texture on the ends and perimeter keeps lines blurred and soft. This is not necessarily "thinning" per se, but cutting into the ends a bit to create a slightly "chipped" line. Hard perimeter lines over the ears and nape also harden a look and do not invite youthful admiration.
Using texture tools such as a razor, blending shears, and other texture tools can soften the cut, give great body and layers, and yet (done with skill) will not over-thin the hair. Proper use of layering and texture can eliminate the need for perms and other firm hair products once needed for support. If done correctly, a simply blow dry and finger tousle with some product and spritz–and you can be on your way looking great in minutes! (Tip: Adding a touch of styling "paste" to the ends will add interest, volume, and texture without the "greasy" feel of pomades!)
This is me!
When selecting your style, choose the length that makes you feel young as well as look young. There is no length rule of thumb. It simply comes down to getting a style that flatters and fits, and one that complements the image you wish to portray. So whether you sport a soft shoulder length bob, or go for a playful pixie, feel confident that your hair style options are vast and have fun trying on a variety of looks until you find that one that says, "This is me!"
More Hair Pages?
I know that hair can be our crowning glory or our worst nightmare and it can change too as we get older. Here's a list of all the pages about hair to help you find what you need.
Update Your Hair Style Hub
Best Anti Wrinkle Creams: Your Reviews!
View All My Pages for Mature Women on the Site Map
Return from Hair Style Options to Anti Aging Homepage