Cupcakes a go go……
by Katherine
(Surrey, UK)
I love my new found passion for cupcakes! Of course I enjoyed eating them before, but now I love making and decorating them!It all started when my colleagues at work bought me a cupcake recipe book, although I think they were under the impression I might end up baking round the clock for their consumption. Whilst I've baked a few bits for work, I've also been able to create cakes for friends birthdays, parties and almost a baby shower too!The baking bit is enjoyable, but I love coming up with ideas for new flavours or toppings and getting creative with the toppings. The most enjoyable bit is watching people enjoy them, the most recent batch of chocolate orange cupcakes vanished in about 2 minutes! Which is a massive compliment and also a little bit more personal than delivering a shop bought cake!I am starting to take larger orders for family and friends so I can share the cupcake joy around and if possible make a little bit on the side as I'm now saving for our wedding in 2012! Although the jury is still out on me baking the cupcakes for that event!
My Anti Aging in Action Newsletter keeps you updated. Subscribe now and get a Free Copy!
of my e-book "Getting Back in Shape After 60!"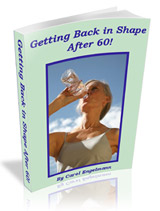 align="center">