Cardmaking as a wonderful, absorbing hobby.
by Christina
(England)
I started card making as a hobby a few years ago when I took part time work from the company I had been with for 22years.
It seemed to me to be a really good way to relax and produce something I could make use of in the process.I made lots of cards and started having some success with selling them, but whenever I wanted to learn something new I couldn't find easy to follow, detailed steps.The blogs and websites I visited always wanted me to buy something, or there wasn't enough info to tell me how to produce the cards they did.So I decided to make my own website and share with all the "new" people to card making, the things I had learned. Card Making Magic is my new hobby, but it doesn't replace cardmaking …Oh No!! it enhances it. And it can show you how to get the same results in stages and video turorials. I try to fill it with projects, that are easy to follow, and recreate with limited resources. But it is an addictive hobby…especially when you get the praise for the cards you give to family and friends.My hobby is ongoing and fills most of my days in one way or another. I get so much pleasure from building the cards that feature as I build my website.
My Anti Aging in Action Newsletter keeps you updated. Subscribe now and get a Free Copy!
of my e-book "Getting Back in Shape After 60!"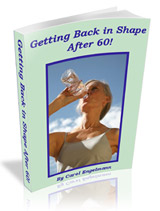 align="center">